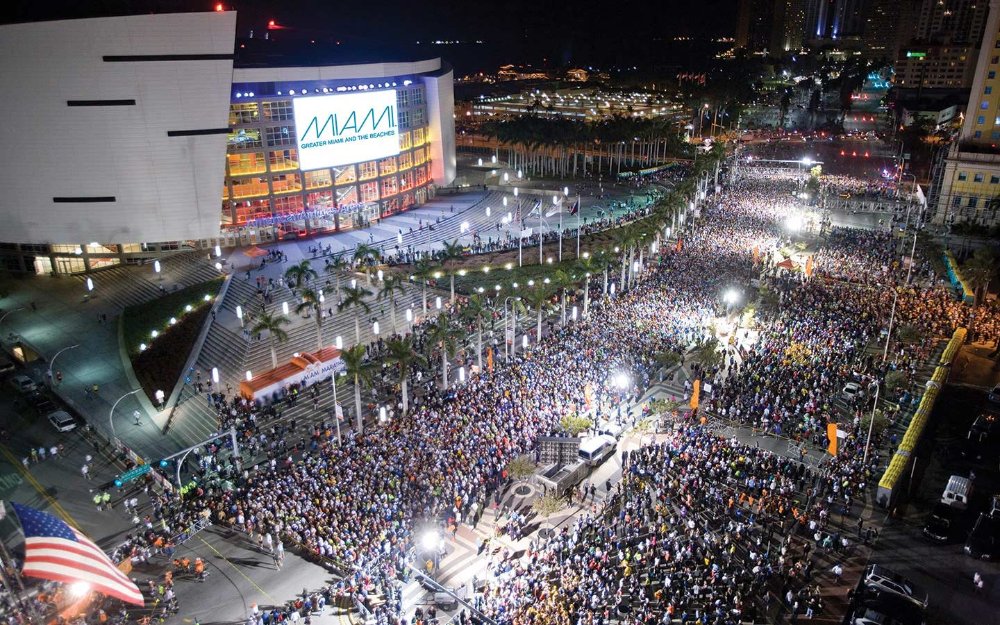 Meet the Team

MATHEW RATNER
DIRECTOR, SPORTS & ENTERTAINMENT TOURISM

AMANDA FORD
SPORTS & ENTERTAINMENT TOURISM MANAGER
Download the Miami Sports and Entertainment Venue Guide for 2020
Top Reasons To Choose Greater Miami And The Beaches For Your Entertainment Needs and Sporting Events
Greater Miami and the Beaches is a sporting paradise. With amazing venues, perfect weather, beautiful beaches, intriguing neighborhoods and plenty of places to get outside and enjoy nature, the reasons to hold an event in miami are endless. Here are just a few.
Weather:
With an annual average high temperature of 83˚ Fahrenheit (69˚ Celsius), Miami can host outdoor sporting events 365 days a year.
Corporate Support:
As an international business center, Miami is home to major corporations that can support and sponsor events.
Easy Access:
Miami International Airport is located right in the middle of Miami, offering direct connections from cities around the world.
Collegiate Sports:
Miami is the longtime home of the Orange Bowl college football game. It's also home to six colleges and universities.
Golf:
With 19 public and resort golf courses, it's always easy to schedule a tee time in Miami.
Pro Sports:
Major sports are well represented in Miami, with the Miami Dolphins, Miami HEAT, Miami Marlins, the Miami Open tennis tournament and NASCAR events at Homestead-Miami Speedway.
Beaches:
With 22 miles of beaches, Miami offers plenty of spaces to stretch out on the sand and take a dip in the Atlantic Ocean.
Parks:
Miami has 49 parks with facilities to host sports and entertainment events. Hundreds of smaller parks are spread throughout the destination, providing plenty of green space. Three state parks, two national parks and one nearby national preserve offer even more opportunities to get outside and enjoy nature.
Diving, Boating & Water Sports:
An extensive artificial reef program offers amazing diving opportunities right off the coast. For those who prefer to stay above the water, Biscayne Bay hosts world-class sailing regattas.
Cruise Capital of the World™:
PortMiami welcomes more cruise vacationers than any other port in the world.
Major Events:
Miami is a major event destination, with the infrastructure to handle events large and small. It has hosted more Super Bowls (11) than any other city.
Convention Centers:
Five convention centers and countless attractions, museums, nightclubs and private spaces are available to host any event.
Diverse Neighborhoods:
Greater Miami and the Beaches consists of a fabric of unique neighborhoods. From bustling Downtown Miami/Brickell and the Art Deco majesty of Miami Beach, to multicultural neighborhoods like Little Havana, Historic Overtown and Little Haiti, there's a new area to explore every day.
Hotels:
Miami has nearly 500 hotels at every size and price point, with a total of approximately 60,000 rooms.
The GMCVB Sports & Entertainment Tourism Department is here to attract, promote and retain sporting events, conferences, conventions and film and television productions for Miami-Dade County. As the premier destination for sporting events, leisure and entertainment, our goal is to foster positive growth and economic development for the local community through increased visitor stays and a more frequent visitor return rate. Additionally, we work directly with local governmental agencies to promote the community's opportunities for incentivizing production companies to film in Miami-Dade.